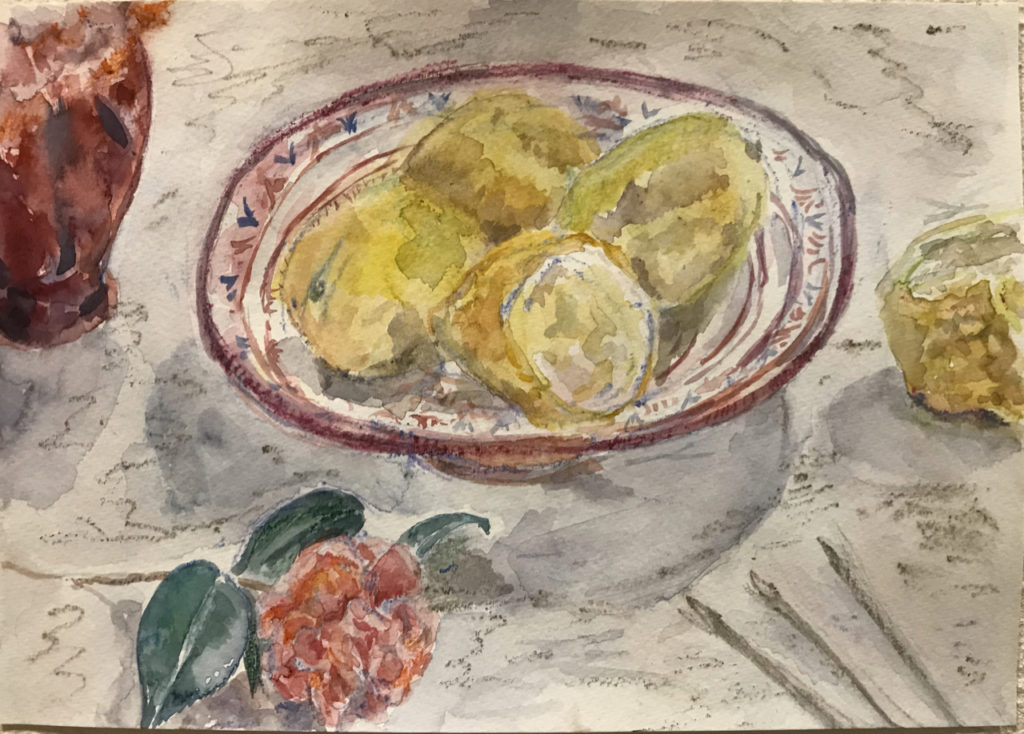 How does a tiny London snail clinging to the underside of an olive branch connect with a major exhibition at the Uffizi Gallery? This image is just one of the unexpected symbolic juxtapositions that have emerged in my work as an artist through the burgeoning creative conversations and collaborations that have developed during this quarantine period.
When Linda Falcone, Director of Advancing Women Artists (AWA), first contacted me in London at the beginning of February to ask me to organise some events in the UK relating to the Garzoni Challenge, we had no idea what a catalyst to creativity this Florentine challenge would become as the Coronavirus impacted on our lives, wherever we were in the world.
The campaign launched by the Uffizi in partnership with AWA and the Medici Archive Project was intended to spotlight the exhibition "The Greatness of the Universe in the Art of Giovanna Garzoni", due to have opened on 11 March. Institutions and contemporary artists worldwide were invited to use Garzoni's work as a springboard for discussion and creativity. The exhibition was postponed as the whole of Italy went into lockdown on 10 March, but by then I had already started to work on ideas stimulated by the challenge and found enthusiastic collaborators in Brighton and London.
Francesca Cluney with her "Club de Clune" in Brighton proposed, through a series of workshops, to create a collaborative crotched still life inspired by Garzoni's luscious bowls of fruit. Althea Greenan, curator of the Women's Art Library (WAL) at Goldsmith's College, University of London, was due to host an event bringing together contemporary women artists to talk about their practises and inviting audience participation through touch, discussion and drawing. I was going to introduce these events talking about AWA's work in Florence and the Garzoni exhibition.I had already introduced Garzoni's work to my painting students, inviting their imaginative responses and was going to host an artists salon in my studio. As all of these live events were cancelled in the UK and we withdrew into our separate homes, we had to find new ways to communicate and keep going.
In a curious way, the Challenge has become a way of keeping the dormant/ suspended exhibition present in our minds and Florence in our hearts, providing both inspiration and a focus for my own work and the work that I do with others.
Sarah Carne, a London based artist writes: "It has struck me how the conversations and interaction the challenge has evoked between us have all been sparked by the local to us, in our isolated spaces, yet seem shared across both time and space, a universal local landscape".
Unable by then to access my studio or travel far from home. I recorded myself in short video to serve as an introduction to Frankie's crotchet workshop and we   put it on Facebook so that it could be listened to "Live" and it also served as an introduction to the work that I was doing as painter.
Which brings me to John Steinbeck and the Snail. I was reading my son's copy of "Cannery Row" from his English class at the International School of Florence and came across a passage that resonated with me in lockdown in London and I read it out in my video as I talked about our kitchens becoming our studios, working in isolation but trying to initiate and maintain multiple conversations to share ideas and stimulate each other.
At the beginning of Lockdown in Italy, I initiated a painting challenge with Markos an 8 year old boy in Rome and we have been exchanging almost daily paintings. What started as an act of solidarity with Italy ("No Man is an Island") became a lifeline for me: a focus, allowing each of us to reach out into the wider world once we could not leave the house.
At this time of year, I am usually based in Florence running a residential art course at Villa Il Palmerino. I now find myself running my art classes remotely, giving guidance and critiques, planning compositions for my own work with the objects I find around me and using these as suggested compositions for my students who find their own equivalents in their separate homes. This has given rise to imaginative responses and poignant juxtapositions as we all revalue our domestic world and discover or rediscover objects that link us with distant family and friends, our past history, that comfort and nourish us but also bring us hope for the future.